DIY Gift Kit Ideas For Mothers
Being a mother is one of the most demanding jobs in the world.
It's a 24/7 job that doesn't get much recognition, no salary increase, no promotion, no certificates.
So giving them something special once in a while is necessary.
Although they deserve the world, it's hard to put that in a box, so we'll settle for a care package.
But, finding something unique that she will love is not always easy.
In this article, we're going to share with you some great ideas for personalized care packages for moms.
These are items that are perfect for Mother's Day or just casual gift-giving.
Spa Day or Self Care Package
This package is perfect for moms you think can benefit from a relaxing home spa day.
Although giving them fancy spa apparatus may be tempting, make sure to give user-friendly products, so they don't get stressed while trying to use the package items - that will render our efforts useless.
If you want to introduce them to sustainable beauty, opt for natural beauty products.
Package Content Ideas:
Scented candles
Bubble bath
Bath salts
Bath bombs
Body scrub
Shower gel
Body lotion
Shower puff
Hair mask
Sleep masks
Lip scrub
Lip balm
Facial mask
Foot mask
Wine bottle
Wine glass
Wooden hairbrush
Prepaid Gift Card
Hobby or Fun Care Package
We all know a crafty mom. For them, receiving something they can assemble or make means they can enjoy the gift three times.
Once as they receive it, twice as they make it, and thrice as they finish their new project.
If your target receiver does knitting as a hobby, give them a knitting set package.
Suppose they enjoy painting, more painting materials.
If they enjoy gardening, then a garden-themed care package.
If you know their hobby, that's great. But you can always send them something you think they may love.
The contents will depend on what project you choose, but here's a list of some enjoyable DIY or hobby kits for your reference.
Kit Ideas:
Nail Art Kit
Tie-dye Kit
Crochet Kit
Gardening Kit
Water Colouring Kit
Diamond Painting Kit
Candle Making Kit
Soap Making Kit
Jewellery Making Kit
Sewing Kit
Embroidery Kit
Cross-stitch Kit
Origami Kit
Scrapbooking Kit
Baking Kit
Puzzle Kit
Postpartum Care Package
The mom we want to spoil isn't just our mom but all the mom around us. New moms especially need more love and support as they go through this huge life event and enter a new phase in their lives.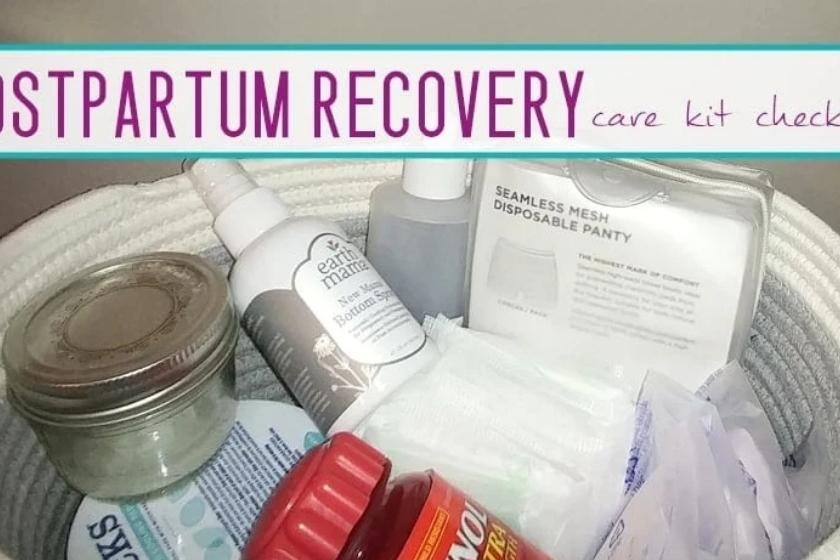 When making your mom care package, make sure to really think of the mom that will receive it and her needs.
We included practical items in the list that you can give to any mom, like a water bottle and instant ice maxi pads, but there are also more specific ones, such as nipple cream, which may be up for the user's preference and needs.
Simple things like a water bottle and easy-to-eat snacks are essential for a nursing mother because she may not have enough time or energy to take care of herself while taking care of her baby.
Avoid giving anything that can trigger postpartum depression, such as clothes (which may not fit their new body) or bath products (bathing is hard and maybe uncomfortable, they can only do a Sitz bath for a few weeks after giving birth).
If you're not sure what to get for their postpartum recovery gift, prepaid gift cards are the way to go so they can get what they really need.
Package Content Ideas:
Postpartum girdle
Instant Ice Maxi Pads
Sleep masks
Peri bottle
Hair scrunchies
Neck pillow
Lip balm
Water bottle
Their favourite sweets
Healthy easy-to-eat snacks
Delicious treats
Prepaid Gift Card
Sitz bath container
Sitz bath mix
Herbal perineal spray
Perineal balm
Lactation Tea
Nipple cream
Nursing Pads
Daily Care Package
Special items are great, but sometimes, the perfect gifts are practical gifts that we can use in our daily lives.
This is great for a busy and always on-the-go mom or mother figure who may be too busy to take care of the basics.
Package Content Ideas:
Wireless earphones
Lip balm
Travel size make-up
Hair scrunchies
Sanitiser
Hand cream
Sunscreen
On-the-go snacks
Facial mist
Water bottle
Sunglasses
Travel sewing kit
A pocket planner
Ballpen
Wet wipes
Chewing gum
A pouch to put these essentials
Prepaid Gift Cards
Packaging Ideas:
Basket with handle
Weaved wooden basket
Plastic basket tray wrapped
Make the bundle of gifts into a bouquet
Heart-shaped cardboard gift box with a lid
Decoration Ideas:
Wrap the basket or container in some cellophane
Use ribbons to decorate and make the care package colorful
Include flowers (fresh or dried)
Personalization Ideas:
Print, stamp, or make a sticker of the lovely mom's name and put that on the container/packaging, wine glass, or hairbrush.
Write or print a guide on how to use the self-care package.
Include a handwritten letter or card
If it's for your mom or mother figure, including your picture together adds meaning to the care package box.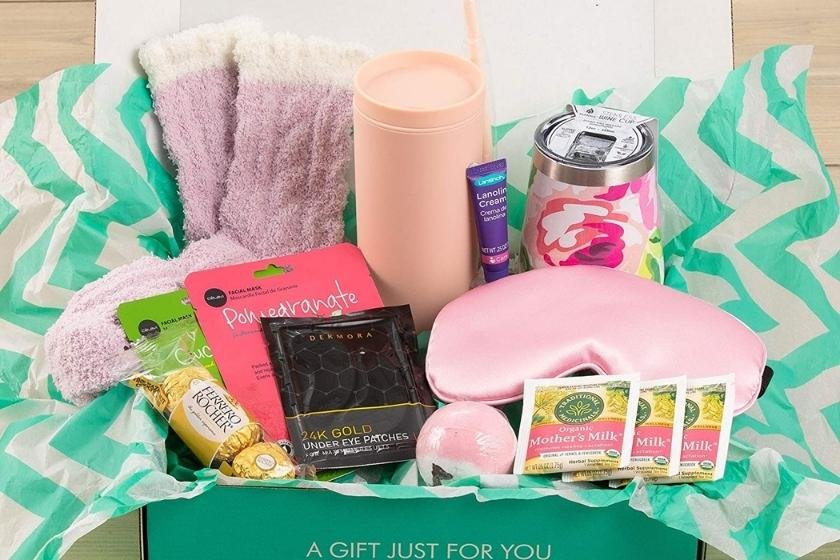 Final Words
Finding the perfect gift for such a perfect person is hard.
But when in doubt, a prepaid gift card, delicious treat box with her favorite candy and snacks, and some wine might be your best bet.
We're sure that whatever you choose to give mom, she'll be happy that you took your time to appreciate her.