Lip Product Packaging
There's nothing worse than having a great product with ugly packaging. It doesn't matter how amazing the product quality is; potential customers might ignore them if they look bad.
Beauty products, and lip gloss specifically, are one of the things which we don't only enjoy the product but also the packaging.
In this post, we will share ten ideas for lip gloss packaging, from simple yet classy to luxurious ones, so you can have a wide variety of packaging to take inspiration from for whatever target audience you're trying to cater to.
Ideas For Lip Gloss Packaging
Lipgloss Case With Mirror
We're starting strong with this one. It doesn't get any fancier than this.
Having an elegant case for a single lipgloss with a built-in mirror is so extra, but that's what life is about.
It's perfect as a gift for your loved ones - including yourself!
Having high-end materials, even in the packaging, makes a high-quality company.
It's great as a limited edition or made to order product.
It'll also take the experience to the next level if they can customize this packaging themselves by choosing colours and other decorations.
It'll be best if it's personalized as in it has the name of the recipient.
Tumbler
For us, the best packaging is that which you don't even want or need to throw out.
And what better way to achieve that than using something usable as packaging, right?
Using tumblers as lipgloss packaging is great for packaging gifts and products for selling alike.
You can customize the tumblers as you want. Maybe even personalize it by including the recipient's name in the tumbler with a sticker.
Use a clear tumbler to showcase the lipgloss inside. You can also add other things inside, such as candies, product samples, and other freebies.
If your lipgloss is flavoured, maybe find a drink recipe with a similar flavour, print that and include it inside the tumbler.
Since tumblers are sturdy, they're also a great way to secure cosmetics product during shipping.
Of course, make it so that the actual product shines and not the
Bouquet
This option is both a quirky and luxurious way to pack your lipgloss.
You can make it as small or as big a bouquet as you want.
The best way to make it work is to include other things with lipgloss.
If you're doing it in-store, you can even include fresh flowers for the optimum luxury.
But, if you're selling online, you can opt for dried or fake flowers.
You can also include sweets in the bouquet. It's more special if you flavour or colour coordinate the bouquet's contents.
Organza Pouch Bags
One of the go-to packagings for small items is Organza bags. 
They come in a wide variety of readily available sizes and designs, making them perfect for single items to sets.
They're also highly customizable, especially with prints.
Organza bags are known for their sheerness that lets us get a peek at the contents, but they also come fully or partially opaque, so there are options you can choose from.
Opaque Organza bags may come in solid metallic colours.
Partially opaque have opaque parts and a clear window in the bag's midsection.
You can also customize the top part or the drawstring part to be made of a different material than the pouch. You can use fur, different coloured fabric, or metallic material.
You can also customize the pouches to have beads. You can put beads on the ends of the drawstring, the bottom of the pouch, or put the beads inside to make unboxing products more interesting.
Resealable Mylar Bags
Mylar bags are plastic bags that have a ziplock-type zipper with a foil back and clear front.
They also come in a wide variety of sizes and colours, although it's usually plain. Of course, if you have the budget, you can always have your designs printed on them.
If you want something more interesting than a solid colour backing, you can opt for a holographic one.
Holographic backing doesn't only make your products visible while still packed; the holographic backing makes any colours pop.
If you don't want to spend on printing for customization, you can always use stickers.
And, since it has a wide clear window, any cards or other items such as candies or freebies you put inside will be visible, making it a two bird, one stone situation.
You can have your branding moment while also making the insides more interesting and fuller for the recipient.
Display Card
A lipgloss with a cute keychain on a display card. That's it. That's the description.
Just imagine how cute that is!
You can balance the spent dollar for products and keychains by reducing the cost of the packaging. A card is definitely more budget-friendly than a full box.
The display card also acts as a protective base for the keychain. To further protect the lipgloss, you can slip the card in a clear resealable poly cello bag.
You can customize the design and prints on the display card as much as you want.
Jar
Yup, you read that right - a jar!
Innovative lip gloss packaging for your innovative product.
This is perfect for lipgloss sets.
You can use clear or tinted jars. A lighter plastic jar is preferable to a heavy glass jar for this.
You can add as much stuff as you can fit in the jar. It's a perfect way to introduce small sample packs of your other makeup products and add likeable freebies like sweets, stickers, and scrunchies.
You can customize the jar body and lid as much as you want with prints and stickers. You can also use whatever package filler you want.
A great way to package a jar set is to decide on a concept like colour coordinating the contents or packing items with a certain holiday in mind, like Valentine's Day.
Kraft Paper Resealable Bag
The cosmetic industry is one of the industries that are pioneering in using sustainable types of packaging.
If you're one of the beauty companies that are trying to make the shift, we also have an option for that.
Kraft paper bags are a more eco-friendly option than Mylar bags.
They can also come with clear windows and a ziplock-type zipper.
They come in different sizes, but only in that iconic Kraft paper brown colour.
You can customize them with prints and stickers or even opt for a different shape and design of the window.
If you want to stick to eco-friendly packaging, you can customize them by using environmentally-friendly ink for prints and stamps, customized paper tapes, and eco-friendly stickers.
Takeout Packaging
Another one where you might go, "wait, what?"
But hear us out, takeout packagings are cheap, highly customizable, easily stored, and they offer great protection to items. They're meant for food, but there's nothing stopping you from using them as lip gloss packages.
Depending on if you use a type made of recycled material, it may also be a sustainable lip gloss packaging.
They're also a fun and quirky way to package your products and a great way to establish your unique and fun brands personality.
They come in different shapes and sizes, so you can be as creative as you want.
They're perfect for sets. You can put any fillers you want; you can even include samples of your other products or types of lip glosses to introduce them.
Maybe even include food such as sweets; after all, they're meant for food packaging.
Box With Moulded Liner
A box with moulded liner is a simple yet luxurious way to pack your lip gloss.
You can make it as simple and classy as you want, or you can opt for a more creative approach.
You can use custom lip gloss boxes, a box with a window, a drawer box, a small box for a single gloss, or a large one for sets.
It goes to say the boxes come in different shapes and sizes, making them perfect for single or set packaging. They're also very versatile in terms of design.
You can choose whatever shape of box you want as well. You can opt for a heart shape for a Valentine's Day set.
Final Words
The lip gloss packaging ideas you can use are endless.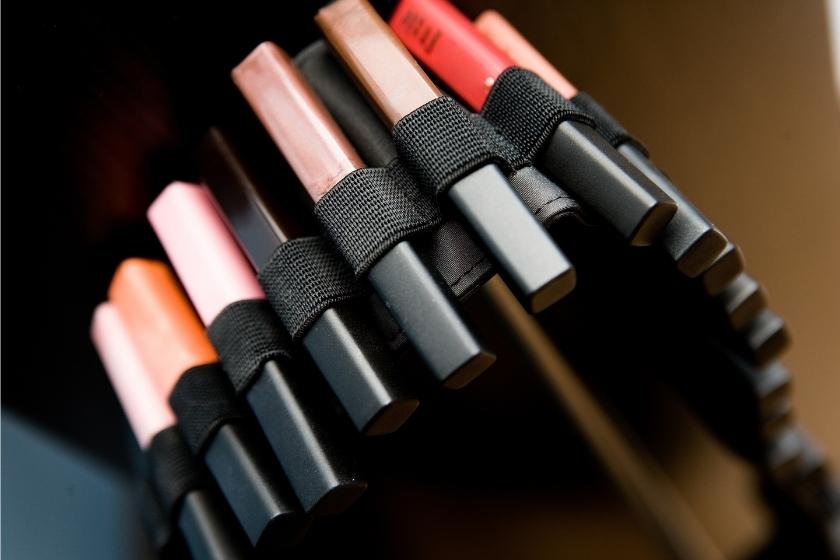 Whether you're looking for a fun twist on classic designs or a new take on a tried-and-true shape, there are tons of ways to package your favourite glosses.
Just put your heart into it, and we're sure the recipient will love your product and packaging alike.
See you in another article!